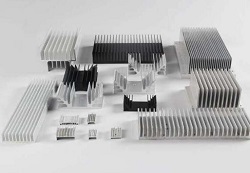 HEATSINKS
Our Stocked Heatsinks
We supply a large number of heatsinks to customers in a variety of industries.img_heatsink
Heat sinks are used to dissipate heat from hot surfaces by increasing the surface area that is in contact with cooling fluid or air.
From extruded heat sinks to bonded fin heatsinks, we can bring greater value in your heat sink solutions that you may be challenged to find with other suppliers.
Aluminum Extruded Heatsinks
Whether your extruded heatsink needs include a customized heat sink or one of our stocked heat sinks, we can provide a solution for you.
Custom
Our experienced personnel are prepared to help you develop a custom heat sink designed to meet your heat dissipation requirements, and be cost effective to manufacture.
Bonded Fin Heatsinks
Bonded fin heatsinks are generally used in forced air environments, bringing the ability to dissipate two-to-three times the heat load as an extruded heat sink of the same volume.
Stocked Heatsinks
We stock more than 225 heat sinks. With our efficiently managed heatsink production capacity, we can ship these heat sinks in 2-3 days in most instances.
We work hard to develop quality relationships with our customers, committing to do whatever we can to assure you have made the right choice. If you need a heatsink for your components,
contact Alexandria Industries to find one that fits your needs today.